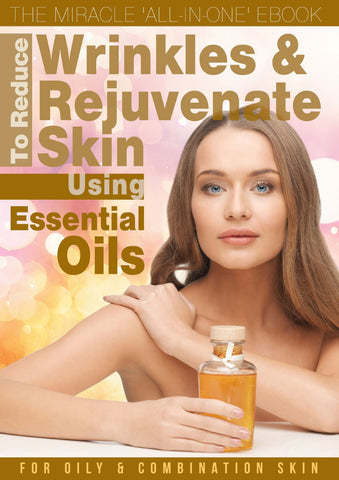 Essential Oils Skincare eBook for Oily & Combination Skin (Digital Download Only)
Discover How To Find Your Elixir Of Youth With Essential Oils!
Improve your skin's condition using Essential oils. Learn the eye-opening why's behind the step-by-step how's and go all-natural with your skincare for good.
Best proven essential and carrier oils for mature and aging skin including a step-by-step guide to making your own essential oil recipes at home for a smoother, even toned, and wrinkle-free skin.
A four-step day time skincare routine of Cleansing, Exfoliation, Toning, Anti-Aging & Sun Protection. A night time regime of Cleansing, Exfoliation, Toning, Moisturizing & Anti-Aging for a glowing and radiant complexion. And, watch your wrinkles disappear!
Best Emergency Treatments and Weekend Skin Pampering for beautiful and radiant skin as well as tips and tricks on how to get more out of your blends.
And 50-pages pf jam-packed information for people with oily skin to reverse and prevent aging by eliminating fine lines, wrinkles and sagging skin.
---
We Also Recommend
---